Fundamental Freeway – October 2022
The Importance of Claims Reporting
Reporting losses within the first 24 hours can significantly reduce the overall cost of your claim. Nuclear verdicts continue to be on the rise across the county. Delayed filing results in lost evidence information, the potential of misinformation and increased litigation involvement, resulting in a significantly larger payout.
We understand how delayed reporting negatively impacts the cost of a claim and have educated our customers on how to best streamline the claims process. During the past year, bodily injury claims for all Fundamental policyholders have been reported within zero to five days nearly 81% of the time, compared to 76% from April 2018 to present.
Past 12 months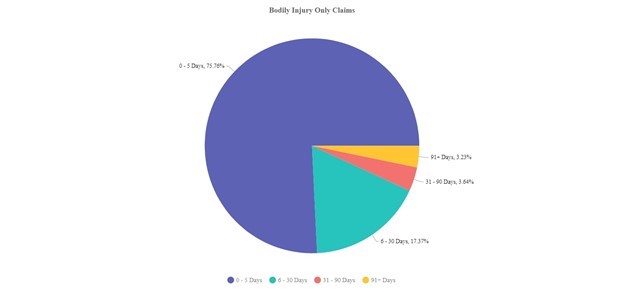 April 2018 to present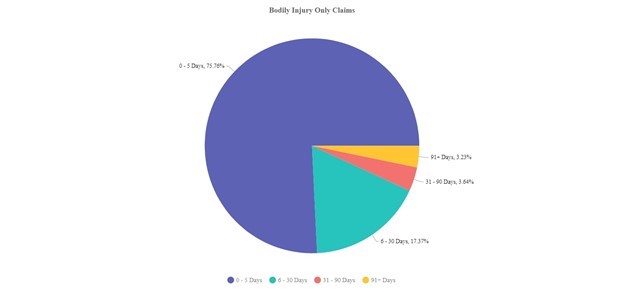 We recently spoke to Delena Higginbotham of Midwest Transport, Inc., a current policyholder, about their accident reporting procedures. Midwest Transport, Inc. has successfully found a way to report 100% of its bodily injury claims within a timely manner for the past 20 years. Higginbotham shares how she handles a reported accident.
At Midwest Transport, Inc., drivers are trained during orientation about accident procedures and protocols and given a business card that includes a list of emergency phone numbers. Each tractor has an accident kit with instructions on who to call and what to do, as well as a federal drug testing custody and control form should the driver need to be reviewed for a DOT post-accident urine drug test.
Drivers report accidents to Midwest Transport, Inc. by immediately calling a dedicated phone number monitored 24/7 to report an accident or a fuel spill. The company representative uses tactics to keep the driver calm, including speaking in a comforting voice, assuring the driver they are not alone, encouraging the driver to relax with a few deep breaths and staying on the phone with them throughout the process. If necessary, a company representative will be sent to the scene to be with the driver and provide support.
The representative will record the pertinent accident details and ask the driver if anyone is injured or if vehicles are out of the way to avoid another collision. Drivers are reminded to set triangles out to alert oncoming traffic if the accident occurred on the roadway or is impeding traffic. If the police have not been contacted, the representative informs the driver to do so. Once the officer arrives and takes the report, the representative will ask the driver for the name of the police department, officer's name, badge and case number, and request the driver text a photo of the police driver exchange form. The accident is then reported to the insurance company.
Higginbotham will immediately call her Fundamental Underwriters adjuster when an accident is a CAT loss. These losses involve multiple vehicles, bodily injury, fire or a fatality, regardless of fault. She says the sooner they are notified of the accident, the faster they can get an adjuster to the scene to start securing information. She also encourages the driver to take photos of every vehicle angle and geographic area. An attorney can be retained to begin the preservation process of the equipment, driver records and GPS records on the tractor. Finally, Higginbotham recommends including the Department of Transportation (DOT) and Federal Motor Carrier Safety Administration (FMCSA) regulations that govern accidents in your First Report Form, as they help protect the company and driver.
When considering a "notice only" claim, Higginbotham will deliberate a process of elimination, which includes reviewing the type of injury (if any), where the accident occurred and if liability is on the CMV driver. Based on a compilation of these factors, she may file it with Fundamental Underwriters as a "notice only" type of loss. A carrier should not rely on a police report alone, as it could be based on opinions and may not contain the facts of the accident.
Here are some best practices for claim reporting:
Designate a qualified primary person to report claims and a backup person
Report all accidents – no matter how large or small, regardless of fault or amount of information you have
Gather driver information
Obtain the street, city and state information
Record the name of the police agency and report number
At Fundamental Underwriters, the faster we receive your claim notification, the quicker we can expedite the process, reducing the expenses associated with most claims.
Report All Accidents to Fundamental Underwriters
Immediately 24/7/365
AF Group Named to Ward's 50 List Again for 2022!
We're proud to share that we've been named to the Ward's 50 list of top performing insurance companies for 2022!
Ward's, a leading provider of benchmarking and best practice studies for the insurance industry, examined nearly 3,000 property/casualty and life/health insurance companies to determine their top performer list. Their recognition of our organization was based on our outstanding results in the areas of safety, consistency and superior performance during a five-year period.
As we celebrate this incredible honor, we want to offer our thanks to you, our valued agents, for the role you play in our success. Thank you for trusting us with your business — and for the remarkable partnerships we continue to build year after year.
AmeriTrust Acquisition Update
As we announced in April, AF Group, through its subsidiary Accident Fund, has entered into a definitive agreement to purchase AmeriTrust Group. Rated "A-" (Excellent) by A.M. Best, AmeriTrust offers specialty insurance programs and products including workers' compensation, commercial package and automotive business coverages, and comprehensive product offerings in various industry segments.
With this acquisition, AF Group will soon welcome AmeriTrust's expertise in the property and casualty space, further enhancing our successful specialty and workers' compensation products and capabilities for organic diversification through access to new products and markets. We're excited about the opportunities this acquisition will bring to our collective enterprise, as well as our agent partners and customers – as we remain committed to providing best-in-class customer service, protecting our shared policyholders, and continued success with our agents.
As we work through obtaining the necessary regulatory approvals, which we anticipate should be finalized in the next several months, our teams are working to ensure a seamless experience for our agent partners, customers and teammates. Once the acquisition is complete, we will take the time necessary to organize our division of business and our approach to the marketplace as we identify where opportunities and overlap exist.
Stay tuned for more information – and thank you for your continued partnership and support!
August Loss Control Coffee Talk

We recently hosted our Q3 Coffee Talk, which focused on catastrophic loss response. This webinar featured Josh McAlister, a consultant from Tenstreet, who reviewed some of the current recruiting challenges in the industry and solutions that his organization offers. If you couldn't join or would like to watch again, please click here.

Voice of Innovation – Thoughts From AF Group
We are proud and excited to share that our ErgoView product – a motion capture technology tool that helps our customers identify musculoskeletal risks in the workplace – was selected for a 2022 Innovation Award from Business Insurance, which recognizes innovation in products and services provided to professional risk managers.
On the heels of this prestigious honor, AF Group Director of Innovation Sam Hosey sat down with Business Insurance for a Q&A on innovation impacts across our enterprise.
"From the top down, AF Group continues to work on 'democratizing' innovation," said Sam. "Meaning, we know that innovation needs to come from all areas of the business — not just the Innovation team. While the team drives our innovation efforts, the culture at AF Group empowers our employees to challenge, and when necessary, disrupt the status quo — in an effort to proactively look for better ways to anticipate and solve customer needs. We use innovation surveys, host innovation contests and hackathons, and consistently meet with various teams to keep the organization engaged and to reinforce everyone's critical role in exploring innovation."
Read the full interview: http://ow.ly/xypW50Kz8Jn